Winter Restorative Yoga Special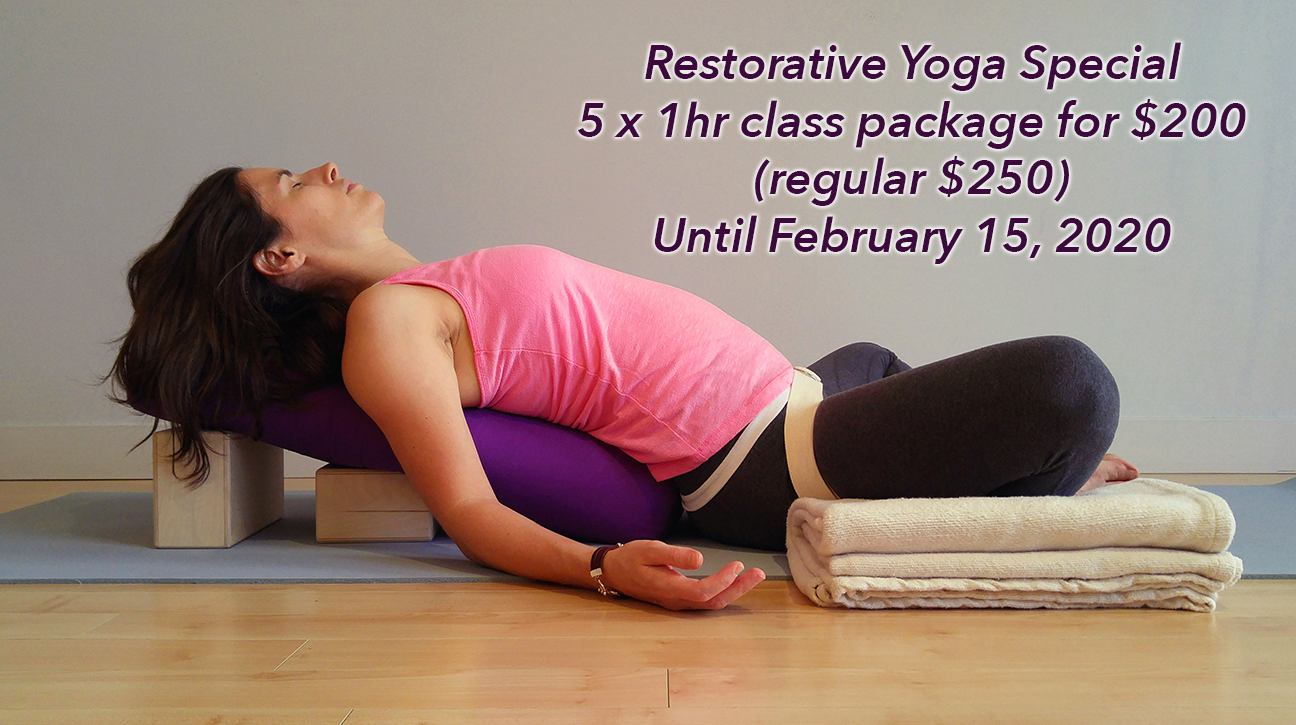 I'm a big fan of self-care practices adapted to suit the season. Suffice to say, in the past few months, week-to-week conditions have been rather tumultuous. Heavy snow and freezing rain in November, 60mm of rain in one day in January, 15cm of snow and 20C swings in temperature a week later. This yo-yoing weather, combined with a prolonged lack of sunlight, can be both physically and mentally fatiguing, taxing nervous system and immune function.
Ways to foster balance through the winter months can include:
– Getting sufficient sleep and rising early enough to maximise daylight hours.
– Consuming warming, nourishing foods and beverages.
– Making time for moderate levels of daily activity, and allowing for extra downtime after days of heavy exertion.
– Spending time in nature.
– Maintaining social connections.
– Purposeful rest.
That last one is where restorative practices enter the picture. These exercises in non-effort involve setting aside the usual modern distractions, making time for internal focus, allowing for a conscious release of stored tensions. This could be anything from soaking in a warm bath or sitting in a sauna, to booking in for a massage, to the unique support provided by restorative yoga.
With the studio space warmed, using bolsters, blankets and cotton straps as support, various reclining postures are maintained for a range of 3-20 minutes, activating deep parasympathetic ("rest and repose") nervous response. It is in this quiet and comfort where your body is capable of doing some of its best healing work. Feedback after restorative session detail reductions in pain and tension, being re-energised, and my favourite, "feeling more rested than after a usual night's sleep".
I'm offering my annual Restorative Yoga Package special until February 15, 2020. 5 x 1 hour private, in-studio classes, tailored to your individual needs. Cost is $200, a savings of $50 off my regular rate.
Email to book in or with inquiries, or call (416) 516-1563. The promotional rate expires 3 months after the purchase date, a $15 surcharge will be applied to each unused session redeemed after that time.