2020 Toronto Movement Research Intensive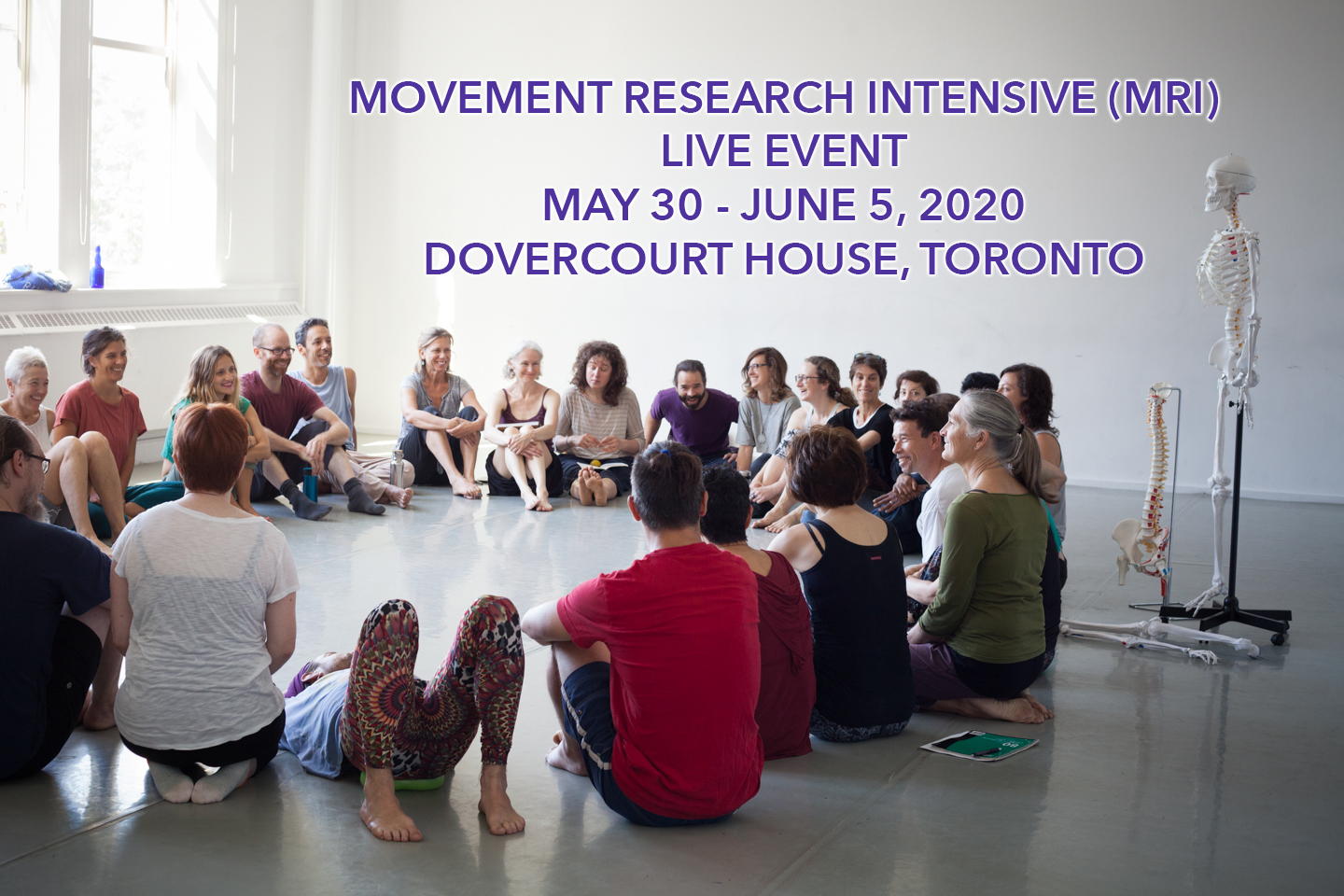 (Unfortunately, this event was cancelled due to the COVID-19 pandemic.)
Full details for the 2020 event (including video snippets from past events) can be found here.
My foray into movement study began in 2014, when I attended my first Axis Syllabus workshop, hosted by Toronto innovator Diane Bruni, and led by teacher Ruth Douthwright. In 2016, I became the moderator of Diane's excellent Yoga and Movement Research Community on Facebook. The following year saw Axis Syllabus founder Frey Faust leading Toronto's first Movement Research Intensive (MRI), alongside a host of other movement specialists.
I fumbled and amazed and discovered my way through that first event – it opened me to options and possibilities for dynamic movement that my then 48 year-old body and mind had never considered. I was hooked, and I have been a fixture at the MRI every year since. It's where some of my best learning takes place, and where I incubate concepts that eventually make their way into my own instruction.
Last fall, I was eagerly awaiting news of the 2020 intensive. Instead, Diane informed me that the stage 3 breast cancer with which she'd been diagnosed and survived in 2012 had returned and metastisised to her bones and organs (you can read Diane's thoughtful and heartfelt story here).
Unable to afford the energy required to coordinate such an endeavour, Diane asked me to take over organisation of the event. While I obviously would have preferred this to have happened under drastically different circumstances, I'm honoured to have been provided the opportunity to carry this tradition forward. My mandate is to maintain the same standard of quality that Diane has brought to this wonderful gathering so that it can continue to be offered in the city for many years to come.
This year's Movement Research Intensive will take place from Saturday, May 30 to Friday, June 5, at Dovercourt House with daily workshops led by Frey and Axis Syllabus teacher Francesca Pedulla. Early-bird pricing of $739CDN for the week is currently available until March 15, 2020 – a $300 deposit will secure your spot at that price. After March 15, regular pricing is $849CDN. As the event has sold out every year, registering early is recommended to avoid disappointment.
Email me to register or with inquiries.